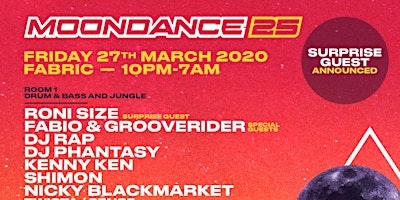 77a Charterhouse Street Farringdon, London, EC1M 6HJ
Moondance 25
Fri 27th Mar 2020, 22:00 – Sat 28th Mar 2020, 07:00

77a Charterhouse Street Farringdon London Greater London

EC1M 6HJ
Event Information
Moondance take over Fabric London in Farringdon, as part of celebrating of their 25th anniversary.
As you will be aware, the government advice on COVID-19 has changed. Therefore as a health and safety precaution, Fabric will be temporarily closing. This is sad news for the clubbing community but absolutely the right thing to do in the circumstances.
We are working with the club to reschedule our upcoming event. For those of you who cannot make the new date, we will of course be offering refunds. We will update on how to go about this shortly. We will work through the logistics with the venue and ticket agents in the next 24 hours and update you all accordingly.
The health and wellbeing of the Moondance community is at the heart of everything we do. This is the first time we have had to cancel an event in nearly 30 years but we hope you understand. Here's looking forward to one hell of a party when we reach the other side.
For now, stay safe, follow the advice and let's look after each other.