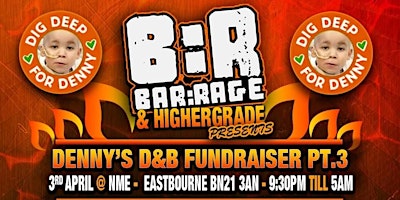 146 Terminus Road, Eastbourne, BN21 3AN
Denny's D&B Fundraiser Part 3
Fri 3rd Apr 2020, 21:30 – Sat 4th Apr 2020, 05:00

146 Terminus Road Eastbourne East Sussex

BN21 3AN
Event Information
Denny's D&B Fundraiser Part 3..... all for the little super hero that is Denny, is what we are here for!
Meet Denny, the beautiful 7 year old boy who has ALL Leukeamia. Sadly, Denny's recent stem cell transplant hasn't cured him amdnhis leukemia has progressively got worse, meaning that he urgently needs further treatment that the NHS cannot fund more then ever. We're pleading to you for help in raising £500,000 for enrolment onto Car-T therapy. We do not have a lot of time. If Denny does not receive this treatment very soon, then our unthinkable will soon become his reality. Every donation counts, no matter how small!!
Lets make a difference for Denny and help him reach his target of £500.000 he deserves so much longer in his life. The drum and bass scene once again comes together for a cause very close to home for most people!!
Denny's D&B Fundraiser Part 3. Lets help Denny reach his goal. Dig deep and lets #DanceForDenny
Friday 3rd April @ NME, 146-148 Terminus Rd, Eastbourne BN21 3AN
9:30pm till 5am
1st release - £5
Full line up !! 💥💥
Across 2 rooms:
Serum, Mollie Collins, Ray Keith, Levela, T>i, Ego Trippin, Jayline B2B V Dubz,  A Plus B2B P Dot K, Power, Didz, Affirmation,  MacDubz B2B Masson B2B E-Lisa, J Slice, Alphaze, Papa Fuma, Stikka & Blakey, Spinnah, Dynamik, DNA, Biggs, plus loads more....
Ragga Twins, Harry Shotta, Funsta, Swifta, IC3, Bellyman, Starz & Deeza, Element, Enamie, Y-Zer, Dotty, AC Mc, Jack Jackal, Velocity, Havok, JL, Madda, SK, Draper, Alman, plus loads more....
PREVIOUS ARTISTS INCLUDE: Turno, Dreps, Basslayerz, TNA, T>I, Brockie, Kenny Ken, Jumpin Jack Frost, Upgrade, Ben Snow, Saxxon, V Dubz, Jayline, Harry Shotta, Starz & Deeza, Decoy, AC Mc, Bellyman, Enamie, Dotty, Y-zer & loads more..... this one is set to be even bigger!!