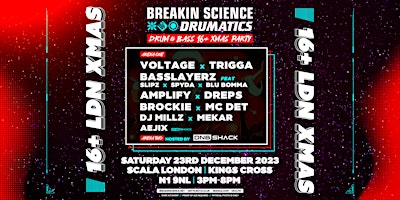 275 Pentonville Rd, London, N1 9NL
Breakin Science + Drumatics 16+ LDN - Drum+Bass Xmas Party
Sat 23rd Dec 2023, 15:00 – Sat 23rd Dec 2023, 20:00

275 Pentonville Rd London Greater London

N1 9NL
Event Information
We're back for the 16+ Drum+Bass Xmas Party in the heart of London's vibrant Kings Cross…
Breakin Science + Drumatics 16+ LDN - Drum & Bass Xmas Party
Saturday 23rd December 2023 | Scala London (Kings Cross, N1 9NL)
15:00-20:00 (1 minute walk from Kings Cross Underground Station & St Pancras)
.
Make sure you join us as we kick off the Christmas celebrations 🎄
.
16+ LDN - Drum & Bass Xmas Party
.
• Voltage × MC Trigga
• Basslayerz feat Slipz × Spyda x Blu Bomma
• Amplify × Dreps
• Brockie × MC Det
• DJ Millz × Mekar
• Aejix
.
Arena 2: Hosted by DNB Shack
.
As with the last event at the venue, they will be operating the new entry procedure and will deliver a much faster operation with significantly reduced queuing times compared to previous events there. However we must ask that all customers make sure they have one of the physical forms of Photo ID listed below
.
18+ customers:
There is an exclusive 18+ area serving alcohol which overlooks the main arena and has access to the main arena balcony. Please note no alcohol will be allowed to leave this area.
.
16+ event // Physical Photo ID Required // Fully licensed SIA Security // Licensed paramedics working throughout the event // Stewards to ensure you get off home safely at closing time
.
Please note physical ID only is accepted for entry and can we confirm the following is acceptable
• Valid Passport
• Valid Driving License (inc Provisional)
• Citizen Card https://www.citizencard.com/valid-uk-id-card
• 16+ Oyster Zip Photo Card https://tfl.gov.uk/fares/free-and-discounted-travel/16-plus-zip-oyster-photocard
• Proof of age ID, such as PASS ID card
.
The venue will not accept photos of ID on phones or printed on paper