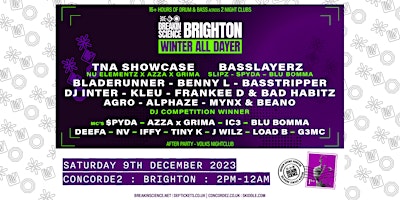 Madeira Drive, Brighton, BN2 1EN
Breakin Science Brighton - Winter All Dayer
Sat 9th Dec 2023, 14:00 – Sun 10th Dec 2023, 00:00

Madeira Drive Brighton East Sussex

BN2 1EN
Event Information
Winter's coming and we're gonna raise the temperature down on the south coast with a Drum & Bass All Dayer this December!
Breakin Science Brighton | Winter All Dayer
Saturday 9th December 2023
Concorde2 | 2pm-12am
.
TNA Showcase - Nu Elementz x Azza x Grima
Bladerunner
Basslayerz - Slipz x $pyda x Blu Bomma
Benny L
Basstripper
Inter
Kleu
Frankee D & Bad Habitz
Agro - Alphaze
Mynx & Beano
DJ Competition Winner
.
MC's $pyda, Azza x Grima, IC3, Blu Bomma, Deefa, NV, Iffy, Tiny K, J Wilz, Load B + G3MC
.
After Party @ Volks from 11pm-7am
.
18+ // Valid Photo ID Required for Entry