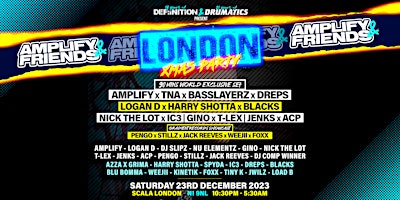 275 Pentonville Road, London, N1 9NL
Amplify and Friends - London Xmas Party
Sat 23rd Dec 2023, 22:30 – Sun 24th Dec 2023, 05:30

275 Pentonville Road London Greater London

N1 9NL
Event Information
Join a rising star in the D&B Scene for his very first headline show in London, following 2 sell out shows in Birmingham this year!
Def:inition & Drumatics presents
AMPLIFY & FRIENDS - LONDON XMAS PARTY
Saturday 23rd December 2023
Scala London
10:30pm until 5:30am (last entry 2am)
.
With an exciting line up ready to take over Scala in the heart of Kings Cross, a multi arena venue with a brand-new sound system & a rich history of Drum & Bass Raves… this one is most definitely not too be missed!!
.
• Tickets from only £5
.
Amplify x TNA x Basslayerz x Dreps [90 Min World Exclusive Set]
Logan D x Harry Shotta x Blacks
Nick The Lot x IC3
Gino x T-Lex
Gradient Records Showcase feat Pengo x Stillz x Jack Reeves
.
Amplify - Logan D - DJ Slipz - Nu Elementz - Gino - Nick The Lot
T-Lex - Jenks - ACP - Pengo - Stillz - Jack Reeves - DJ Comp Winner
.
Azza X Grima - Harry Shotta - $pyda - IC3 - Dreps - Blacks - Blu Bomma
Weejii - Kinetik - Foxx - Tiny K - JWilz - Load B
.
The Balcony
Jay Jay B2B W111z + B Line x Cazzy
Shawzy B2B Hknappo + Sico x Scoobs (Insight Audio x 36 Set)
Winston B2B Frizz B2B Nexus + Mookz BBTV Takeover
Gheek B2B Riptide + Jay Force
Pluto B2B Smills + J Whitez
Alfa B2B Dunners
.
The Foyer
Silvz B2B Mac
Brooky B2B Sal B2B Beep + MC P.O.
Boyler B2B Akimbo
Fahren B2B Webba
Chunk B2B Benno
Dewez - Addam Burnss
.
18+ Only - Physical Photo ID Required