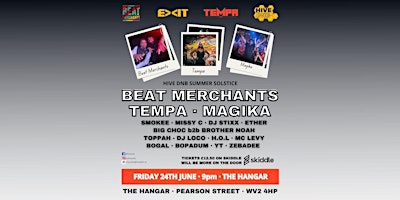 Pearson Street, Wolverhampton, WV2 4HP
SUMMER SOLSTICE
Fri 24th Jun 2022, 21:00 – Sat 25th Jun 2022, 04:00

Pearson Street Wolverhampton West Midlands

WV2 4HP
Event Information
LONG SUMMER DAYS, FOLLOWED BY THE BEST IN D&B AND JUNGLE. D&B, JUNGLE, DRINKS & VIBES. THE FRIDAY OF ALL FRIDAYS!!
IF WERE GOING TO CELEBRATE SOMETHING IN THE UK - ITS GOT TO BE THE SUN!
WERE BRINGING THE BEST D&B AND JUNGLE TO THE MIDLANDS @ THE HANGAR VENUE WOLVERHAMPTON ON ONE OF THE LONGEST DAYS OF 2022!
BEAT MERCHANTS, MAGIKA & TEMPA, SUPPORTED BY LOCAL (TRIED & TESTED) TALENT!
GOOD ENEGY, DNB FAMILY VIBES!
FINAL RELEASE TICKETS £12.50 · MORE ON THE DOOR
SEE YOU THERE