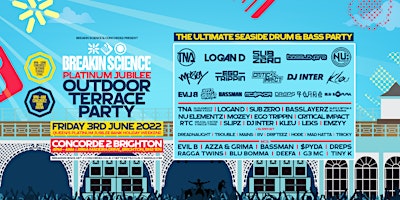 Madeira Drive, Brighton, BN2 1EN
Breakin Science Brighton - Platinum Jubilee Outdoor Terrace Party
Fri 3rd Jun 2022, 16:00 – Sat 4th Jun 2022, 04:00

Madeira Drive Brighton East Sussex

BN2 1EN
Event Information
On this years very special Queen's Platinum Jubilee Bank Holiday Weekend, all roads lead to Brighton and direct to Concorde 2 by the beach!
Breakin Science - Platinum Jubilee Outdoor Terrace Party
Friday 3rd June 2022 (Bank Holiday Weekend)
Concorde 2 - Brighton
4pm-4am
.
Always taking things up a level join the Breakin Science family on what should be a hot sunny bank holiday Friday, as we set up a full stage with state of the art sound & lighting for this Outdoor Terrace Party under the arches.
.
With a new renovated outside events area, we're going 12 hours straight from start to finish with the party moving inside at 10pm… This is one Drum & Bass party not to be missed!
.
TNA (Nu Elementz x Azza x Grima)
Logan D x Evil B
Sub Zero
Basslayerz (Slipz x $pyda x Bomma)
Mozey
Critical Impact
Ego Trippin
RTC Showcase (Ragga Twins x Inter x Krucial)
Kleu
MC Bassman
Dreps
Deefa
Emzyy
Leks
Dreadnaught
Supported by
Trouble - Mains - RV - Drifteez - Hode - Mad Hatta - Tricky - G3 MC + Tiny K
.
* Hot & Cold food available from on site vendors
* Over 18's Only
* Valid Photo ID Required