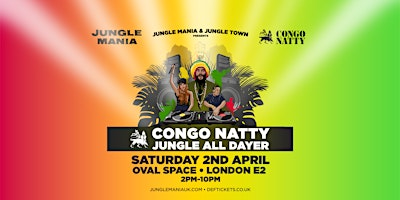 29-32 The Oval, London, E2 9DT
Jungle Mania & Jungle Town - Congo Natty Jungle All Dayer
Sat 2nd Apr 2022, 14:00 – Sat 2nd Apr 2022, 22:00

29-32 The Oval London Greater London

E2 9DT
Event Information
Alongside Congo Natty, huge live PA's from Jungle legends and showcasing some fresh new talent!
Jungle Mania & Jungle Town
Congo Natty - Jungle All Dayer
Saturday 2nd April 2022 - Oval Space
2pm-10pm
.
Jungle Mania & Jungle Town join forces to present the Congo Natty Jungle All Dayer in the heart of East London (E2) at the amazing Oval Space venue…
.
• Congo Natty Live feat Doktor performing a live PA of the smash hit "Rudeboy"
• Exclusive Acoustic Jungle Set feat Surprise guests
• Ragga Twins Live performing Killa Sound, Shine eye, Spliffhead + Hooligan 69.
• MC Spyda Live performing Tarantula, Balaclava, All Ganja man, Mo'fire + Highest respect.
• Navigator Live performing Ghetto strugglaz lullaby, Ruffneck, Sound the alarm + Inequity worker.
• David Boomah Live performing Ain't no Sunshine + On the run.
• Chop Soundsystem feat King Yoof & Natty Campbell
• Nicky Blackmarket b2b Millz
• Funky Flirt (Jungle Dubplate Set)
• Inter & MC Fearless (Classics Set)
• Mrs Magoo, DJ Frenetic + Dizzy Blonde
• MC Competition winners judged by Congo Natty 🔥
.
True junglists… keeping the jungle alive ❤️💛💚