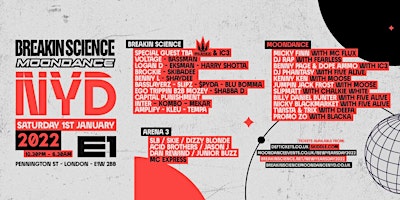 Unit 2 110 Pennington Street, London, E1W 2BB
Breakin Science x Moondance NYD 2022
Sat 1st Jan 2022, 22:30 – Sun 2nd Jan 2022, 06:30

Unit 2 110 Pennington Street London Greater London

E1W 2BB
Event Information
LINE UP AND VEUNE ANNOUNCED FOR LONDON'S BIGGEST NYD RAVE!
Breakin Science and Moondance join forces to bring you the ultimate NYD rave experience
.
Saturday 1st January 2022
E1 Pennington St, London, E1W 2BB
10.30pm to 6.30am
.
3 Arenas of Drum & Bass, Jungle, Old School,House & Club Classics, UK Garage & more.
.
BREAKIN SCIENCE ARENA
SPECIAL GUEST (PLAYAZ) + IC3
VOLTAGE + BASSMAN
LOGAN D + EKSMAN + HARRY SHOTTA
BROCKIE + SKIBADEE
BENNY L + SHAYDEE
BASSLAYERZ ft SLIPZ - $PYDA - BLU BOMMA
EGO TRIPPIN B2B MOZEY + SHABBA D
CAPITAL PUNISHMENT ft INTER – KOMBO – MEKAR
AMPLIFY - KLEU - TEMPA
.
MOOONDANCE ARENA
MICKY FINN WITH MC FLUX
DJ RAP WITH FEARLESS
BENNY PAGE & DOPE AMMO WITH IC3
KENNY KEN WITH MOOSE
JUMPIN JACK FROST WITH MOOSE
SLIPMATT WITH CHALKIE WHITE
DJ PHANTASY WITH FIVE ALIVE
BILLY BUNTER WITH FIVE ALIVE
NICKY BLACKMARKET WITH FIVE ALIVE
TWISTA & TRIX WITH DEEFA
PROMO ZO WITH BLACKA
.
ARENA 3
SLB
SKIE
DIZZY BLONDE
ACID BROTHERS
JASON J
DAN REWIND
JUNIOR BUZZ