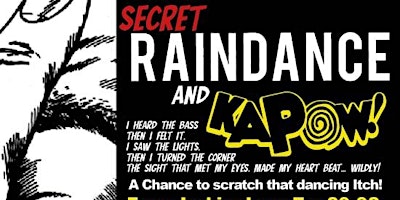 Ashley House Ashley Road, Tottenham, N17 9LZ
Secret Raindance Presents an opp to 'scratch your raving itch' **CANCELLED*
Sun 1st Aug 2021, 12:00 – Sun 1st Aug 2021, 22:00

Ashley House Ashley Road Tottenham Greater London

N17 9LZ
Event Information
Secret Raindance and Kapow have been invited to provide a secret musical arena.. THIS SUNDAY The Cause 3rd Birthday: Dance Energy weekender
Secret RaindancePresents an opportunity to 'scratch your raving itch'VENUE ANNOUNCED!!! 
The Cause 3rd Birthday Dance Energy Weekender 
The Cause, Down Lane Studios, Ashley Road, N17 9LZ
Indoors & Outdoors
£15 + Booking fee
Sunday 1st August 2021
12pm-10pm
Late notice we know, but here is the chance to dust off your dancing shoes and come and scratch that raving itch.... No Masks, No Social Distancing, No Waiter Service, No Sit at a Table.
We bring you an all dayer, with a relaxed atmosphere with like minded souls.. Come and dance your troubles away.... You have all earned your freedom.
Line-Up
Vibes, Devious D, Skyz, Uplift, GPS, Dave Minns, Old Gits, Swarm, Illfigure, Makah, Cult to Culture Dj's, Slippy Skills.
-------------------------------------------------------
ENTRY POLICY REGARDING COVID-19
In order for us to retain as much freedom inside the venue whilst also protecting our staff, performers and fellow dancers, we will be implementing the following strict entry policy and safety measures.
We are asking everyone attending to ensure one or more of the following applies to them.
1. You are fully vaccinated against covid, having received a second dose of vaccine more than 2 weeks ago.
2. You have proof of a negative covid test, taken no longer than 48 hours prior to arriving at the venue (ideally you would do this a few hours before).
3. You have tested positive for covid in the last 180 days and have now finished the 10 day isolation period.
We will require you to provide proof of this as a condition of entry, with either a 'covid pass' from the NHS app or by showing us an NHS email / SMS confirming a negative test result within the last 48 hours OR a positive test result within the last 180 days.
Please note, a lateral flow test is sufficient. Please order tests from Gov.uk and report your results via the GOV website.
A certificate of full vaccination from the UK or another country will also be accepted.
Please note: In order to protect our front of house staff, we kindly ask you to wear a face mask whilst queuing until you have provided evidence of any of the above. The use of face masks inside will be at customer discretion. Please respect everyone's personal decision on this.
We also highly recommend that you take another lateral flow test 48 hours after attending a show, and daily for up to five days after.
We look forward to seeing you dance soon x