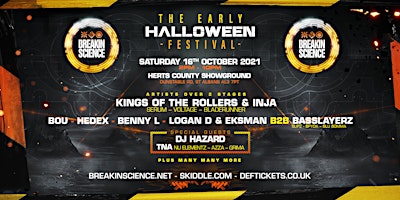 Dunstable Road, St Albans, AL3 7PT
Breakin Science Early Halloween Festival
Sat 16th Oct 2021, 14:00 – Sat 16th Oct 2021, 22:00

Dunstable Road St Albans Hertfordshire

AL3 7PT
Event Information
We will be going fully in with our first ever Breakin Science Early Halloween Festival at the Herts County Showground.
Breakin Science Early Halloween Festival
Saturday 16th October 2021
Herts County Showground (St Albans, AL3 7PT)
2pm-10pm
Summer may coming to an end, but that doesn't mean festival season is over yet… Come join the party as we head to the superbly located Herts County Showground, for an early halloween celebration and takeover a purpose built all weather festival site consisting of 2 big tops with bars + walkways protected from the elements! 🎪
This event has been a long time coming due to the pandemic and the many issues it has continued to cause for the industry, but we now look forward to delivering a party to remember on Saturday 16th October with a huge line up guaranteed to bring the heat and boneshaking bass! 🔊
For those that want a little extra, you can go VIP and enjoy an exclusive lounge area within the main big top arena + dedicated bar, toilets + queue jump entry!
Fancy Dress welcome 👻
🎃🎃🎃🎃🎃🎃🎃🎃
Artists spread over 2 arenas of Drum & Bass with full festival production
• Kings of the Rollers (Voltage, Serum & Bladerunner) + Inja
• Bou
• Hedex
• Benny L
• Logan D x Eksman b2b Basslayerz (Slipz, Spyda & Blu Bomma)
• Special Guest DJ Hazard
• Special Guests TNA (Nu Elementz x Grima x Azza)
• Skibadee
• Nicky Blackmarket
• IC3
• Ego Trippin
• 2Shy MC
• Filthy Habits - Inter - Kleu - Kara - North Base - Complex - V Dubz
• Pick n Mix Showcase ft TJ x Foxx - Rough Tempo Showcase ft Scoundrel - Twista - Zestar
• Kombo - Mekar - Deefa - Starz & Deeza - JWilz - Load B - loopie - Weeji - Twin FX
🕷🕸🕷🕸🕷🕸🕷🕸
* The festival is located a stones throw off the M1 and only 30 mins from London by car & easily accessible by public transport 🚘 Free Parking
VIP Tickets inc Priority Queue Jump + VIP Lounge Area inside Main Arena with Exclusive Bar + Access to VIP Toilets
Group Deals - Discounts are automatically applied when purchasing the minimum amount of tickets required. For example, when purchasing the 4 Ticket Deal, you are selecting 4 tickets for 4 persons. The price shows the price per person.
Over 18 only / Valid photo ID Required / All tickets are Non-Refundable.
* All non refunded tickets from 28/05/21 + 02/07/21 remain valid and new tickets will be re-issued for this event in the next 14 days for those that chose to rollover
TRAVEL
• Getting to the site by car 🚘
Address: Hertfordshire County Show Ground, Dunstable Road, St Albans, Herts, AL3 7PT
The Showground is located 300 metres from Junction 9 of the M1 on the B5183. The Showground is signposted from the Motorway.
To see the venue on Google Maps, please click here
https://www.google.co.uk/maps/place/Redbourn,+St+Albans+AL3+7PT/data=!4m2!3m1!1s0x487647a169f1e821:0x6c28a35904b8403?sa=X&ved=0ahUKEwiLkYvtsIXcAhVDJsAKHZnxCmsQ8gEIgAEwCg
• By Train 🚂
The nearest British Rail stations are Harpenden (10 mins) and St Albans City (15 mins) which are on First Capital Connect St Pancras line.
National Rail Enquiries: 08457 484952 (24hrs) 
www.nationalrail.co.uk
• Standard Bus 🚍
Bus number 34 or 46 – St Albans to Dunstable. Saturday only, one service per hour.
Please call 0871 200 2233 (07.00-22.00 daily) or go to www.intalink.org.uk