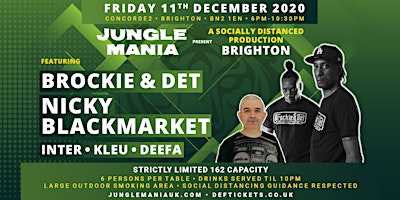 286A Madeira Drive, Brighton, BN2 1EN
Jungle Mania presents a Socially Distanced Production - Brighton
Fri 11th Dec 2020, 18:00 – Fri 11th Dec 2020, 22:30

286A Madeira Drive Brighton East Sussex

BN2 1EN
Event Information
Jungle Mania come to Brighton with Brockie & Det + Nicky Blackmarket, for a socially distanced production!
Jungle Mania present A Socially Distanced Production - Brighton
Friday 11th December 2020
6pm - 10:30pm @ Concorde2 Brighton
Concorde2 is a very spacious venue and we are restricted to 162 guests, with 6 persons per table and bookings must be made in groups of 6.
Junglist's on stage providing the entertainment
BROCKIE & MC DET
NICKY BLACKMARKET
INTER
KLEU
DEEFA
** PLEASE NOTE SOCIAL DISTANCING RULES APPLY!! **
PLEASE TAKE THE TIME TO READ THE BELOW INFORMATION FOR YOUR SAFETY.
Please respect one another's space and keep your distance where indicated.
Customers will therefore have to buy group tickets of 6 in order for us to use our entire allocation
'In making this booking you are confirming that you & your group are either all from the same household or are part of the same 'social bubble' in accordance with UK government Covid-19 safety measures'.
• For more info or to discuss table bookings please contact us direct and we will be able to help manage this
Email: info@junglemaniauk.com