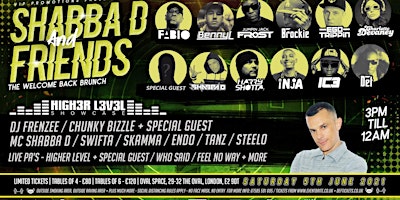 29-32 The Oval, London, E2 9DT
Shabba D & Friends
Sat 5th Jun 2021, 15:00 – Sun 6th Jun 2021, 00:00

29-32 The Oval London Greater London

E2 9DT
Event Information
We're Pleased to Announce Our New Socially Distanced Outdoor DnB Event Dedicated To Drum & Bass!
‼️SHABBA D & FRIEND‼️ THE WELCOME BACK BRUNCH
SATURDAY 5TH JUNE 2021 @ OVAL SPACE
3PM – 12AM
DNB, JUMP UP, JUNGLE PLUS MORE!!!!
LIMITED TICKETS
TABLES OF 2 : £40
TABLES OF 4 : £80
TABLES OF 6: £120
OUTSIDE SMOKING AREA, OUTSIDE RAVING AREA, PLUS MUCH MORE.
PLEASE NOTE, SOCIAL DISTANCING RULES APPLY!
NO FACE MASK, NO ENTRY!
FOR MORE INFO: 07585 591 695
‼️DJS & MCS‼️
Benny L
Fabio
BROCKIE
Ego trippin
Jumping Jack Frost
Charlote Devaney
Chunky Bizzle
Freenzy
Shabba
Harry Shotta
Ic3
Inja
Det
Endo
Swifta
Tanz
Steelo