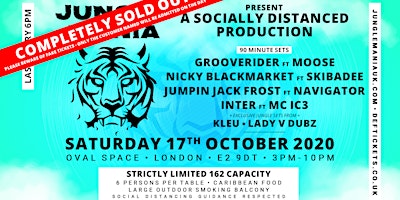 29-32 The Oval, London, E2 9DT
Jungle Mania presents a Socially Distanced Promotion #2
Sat 17th Oct 2020, 15:00 – Sat 17th Oct 2020, 22:00

29-32 The Oval London Greater London

E2 9DT
Event Information
For this second special event we will have a completely new line up of Jungle Mania regulars, with social distancing guidance respected
Jungle Mania present A Socially Distanced Production
Saturday 17th October 2020
4pm - 10pm @ Oval Space (London, E2 9DT)
Last Entry 6pm
For this second special event we will have a completely new line up of Jungle Mania regulars, again with social distancing guidance being respected… we can assure you that this will still be a party!
Oval Space is a very spacious venue and we are restricted to 162 guests, with 6 persons per table and bookings must be made in groups of 6.
Junglist's on stage providing the entertainment with 90 MINUTE SETS
GROOVERIDER ft MC MOOSE
NICKY BLACKMARKET ft SKIBADEE
JUMPIN JACK FROST ft NAVIGATOR
INTER ft IC3
KLEU • LADY V DUBZ
• Extra Attractions
~ 6 Persons per Table
~ Caribbean Food - 2 Course Menu with table delivery
~ Large Outdoor Smoking Gallery
• Tickets
1st Release - 6 person table (£25pp) - £150 +b/f
Final Release - 6 person table (£30pp) - £180 +b/f
1st Release - 6 person table (£25pp) + 2 Course Menu (£12pp)- £222 +b/f
Final Release - 6 person table (£30pp) + 2 Course Menu (£12pp) - £252 +b/f
* Please arrive by 5pm for pre-order food tables
** Last Entry 6pm
--------
• 2 Course Menu purchased in advance
~ Starters ~
1 x Juicy Jerk wrap (Medium) or1 x Jamaican Patty: Chicken, Beef, Veg or Fish
~ Mains ~
Sizzling Qtr piece Jerk chicken or Succulent Curried Goat or Tremendous Potato & Chickpea Curry (vegan)
(All options served with white rice or rice and peas)
**** Selling on the day ****
Ital wrap (Vegan) (Potato + chickpea) ( Medium) (large)
Juicy Jerk wrap (large)
Perfect piece of Cake: Red velvet or victoria sponge
+ All dishes provided on previous menu.
Jamaica Flavours team will not be providing table service. A member of our staff will notify each table to come up to receive their order.
----------
** PLEASE NOTE SOCIAL DISTANCING RULES APPLY!! **
PLEASE TAKE THE TIME TO READ THE BELOW INFORMATION FOR YOUR SAFETY.
Please respect one another's space and keep your distance where indicated.
Customers will therefore have to buy group tickets of 6 in order for us to use our entire allocation
'In making this booking you are confirming that you & your group are either all from the same household or are part of the same 'social bubble' in accordance with UK government Covid-19 safety measures'.
• For more info or to discuss table bookings please contact us direct and we will be able to help manage this
Email: info@junglemaniauk.com