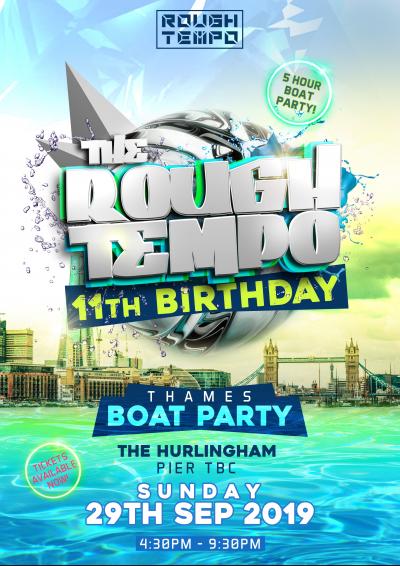 The ROUGH TEMPO - END of SUMMER / 11th BIRTHDAY BOAT PARTY!!!!
Sun 29th Sep 2019, 16:30 – Sun 29th Sep 2019, 21:30
Subtotal: £0.00
---
Event Information
It's that time again for the Rough Tempo annual end of summer birthday boat party on the River Thames in London...
We had such a good time last year we've decided to use the Hurlingham yet again..... All aboard for 5 Hour D&B boat party :D
No line up announced yet ;)... Plenty of Rough Tempo residents will be playing and a few special guests ;)..
Come party with the team, if youve been on one of these before you know what to expect...
Grab the last of the tickets now at £25 each plus bf.. 75% have already been presale...