Recommended Products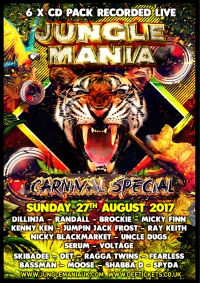 Moondance presents Love Rave NYE 2017
Sun 31st Dec 2017, 20:00 – Mon 1st Jan 2018, 06:00

Scala

, 275 Pentonville Rd, Kings Cross, London, London N1 9NL
Subtotal: £0.00
---
Event Information
Moondance presents LOVE RAVE NYE 2017
Sunday 31st December 2017 (8PM – 6AM)
Scala, Kings Cross, London, N1 9NL
Last chance for £20 tickets: loveravenye.com

FULL LINE UP ANNOUNCED!

The Ultimate NYE rave experience!

London's longest running NYE Rave: The 15th consecutive Moondance NYE

4 rooms of Old Skool, Jungle, Drum & Bass, House, UK Garage & Bass

Brand new sound system at Scala!

Following the massive success of Moondance Festival 2017 on Trent Park earlier this Summer and fourteen consecutive sold out Moondance NYE events, Moondance invites you to join us for the ultimate NYE rave experience as we return to the iconic Scala in North London for LOVE RAVE NYE 2017.

Main Room (Old Skool / Jungle / Drum & Bass)

Midnight Live PA: Youngman performing "Sorry" and "Let it Shine" Live
Ratpack (Midnight set)
Drumsound & Bassline Smith
DJ Krust
Kenny Ken & Jumpin Jack Frost
Slipmatt & Billy Daniel Bunter
Brockie & Det
DJ Phantasy & Uncle Dugs
DJ Sense
Trix
SLB & Twista
Lisa Dizzy Blonde

MCs GQ, Moose, Det, Charlie B, Fearless, Youngman, Five Alive, Deefa, Blacka

Son of Dance x Essence of Chi (Drum & Bass) powered by Funktion One

Bryan Gee (V Classics - Midnight Set)
Artificial Intelligence
DJ Kane
Nookie
Nicky Blackmarket
Ashatack
Healing Crew & Ascension
Jessie Jo
DJ T1 & Sambaman

MCs Lowqui, Five Alive, Bassline MC, Flux, Bellyman, Degs, Miss Trouble

Epidemik (House / Old Skool / Jungle)

Huck Finn (Midnight Set)
Skie
Food Junky & Genetic
Acid Brothers
Kezman & Social Logic
Jamid & Konduktor
Jason J
Bonnie Blaze & DJ Briggsy
KMH

Hosts Cutter, Express, Fusion, Funktion, MC Ribs
UK Garage and Bass

DJ Fen with MC Kie
Junior Buzz with Loskiboy (Midnight Set)
DJ Listener with Wicked
Sense
Kruel Intentions with UNO
Redlock
Rhi Spect

Hosts MC Kie, Uno, Loskiboy, Wicked

All £15 tickets SOLD OUT in record time!
Last chance for £20 tickets: loveravenye.com

Scala Photo ID Entry Policy
This event is for over 18s only.
NO ID = NO ENTRY
Producing a valid form of photographic identification and submitting that for scanning on Club Scan is a condition on entry to the premises, regardless of age.