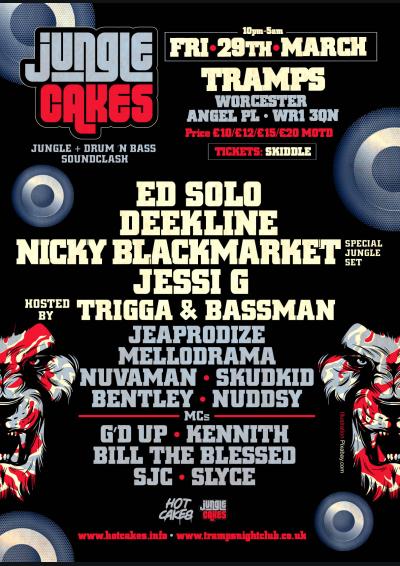 Jungle Cakes: Ed Solo Deekline NBM Trigga Bassman & more
Fri 29th Mar 2019, 22:00 – Sat 30th Mar 2019, 05:00
Subtotal: £0.00
---
Event Information
The biggest jungle event to ever hit Worcester! Jungle Cakes are, bringing with us some of the top selectas to entertain and educate the people. Loaded with the rudest, dubbed out basslines and duttiest riddms, we're packing out the club with raving vibes to transport you back to the beating heart of the jungle.

Ed Solo
Deekline
Nicky Blackmarket Offical Fan Page !!!
Jessi G Shell
Hosted by Trigga & MC Bassman

Jeopardize DNB.
MelloDrama
Nuvaman
Skudkid
Bentley
Nuddsy

MCs
G'd Up
Kennith
Bill The Blessed
SJC
Slyce

Tickets £10-20 MOTD

Expect a carnivalesque tribute to the true roots of Ed Solo and Deekline's celebrated label and club night, delving deep into jungle and dub music.

The apex predators have returned to their rightful place at the head of the pack. Jungle Cakes is back..