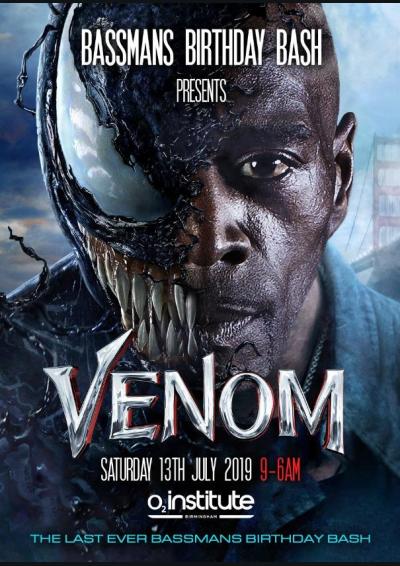 BASSMANS BIRTHDAY BASH presents VENOM - THE LAST EVER BIRTHDAY BASH
Sat 13th Jul 2019, 21:00 – Sun 14th Jul 2019, 06:00
Subtotal: £0.00
---
Event Information
BASSMANS BIRTHDAY BASH presents VENOM - THE LAST EVER BIRTHDAY BASH

Saturday 13th July 2019 at O2 Institute Birmingham
Time 9pm - 6am (LAST ENTRY 2AM)

BASSMAN HAS BEEN DOING BIRTHDAY EVENTS SINCE THE 90'S AND HAS STAGED SOME OF THE MOST MEMORABLE EVENTS IN DRUM & BASS HISTORY. UNFORTUNATELY, ALL GOOD THINGS HAVE TO COME TO AN END AND BASSMAN HAS DECIDED THAT THIS WILL BE THE LAST EVER BIRTHDAY BASH! WE WILL GOING OUT WITH SOMETHING EXTRA SPECIAL THIS YEAR SO EXPECT A WHOLE NEW LEVEL FOR THIS EVENT! SHOW YOUR SUPPORT FOR ONE OF THE MOST LEGENDARY ARTISTS EVER TO GRACE THE STAGE AND JOIN ON JULY 13th in BIRMINGHAM FOR...

MAIN ARENA - POWERED BY RC1 SOUND SYSTEM

★ BIRTHDAY SET - BASSMAN, TRIGGA & SPYDA with MICKY FINN - CLASSIC SET

★ SPECIAL GUEST - HAZARD with SHADOW DEMON COALITION FT EVIL B

★ LOGAN D & SLIPZ with EKSMAN, SPYDA & BLU BOMMA

★ SUB ZERO & LIMITED with FEARLESS, FUNSTA & JUICEMAN

★ FILTHY HABITS with NUTCRACKA & SWIFTA

★ NICKY BLACKMARKET with TOKEN BLACK & SHYAN SPANGALA

★ STANDARD PROCEDURE FT ROWNEY & PROPZ with TODDLAH & TNT

★ MODIFIED MOTION & LIZE with STARTAH & G DIZZLE

★ SMOKE & RAW with ALMAN & FIREFLY