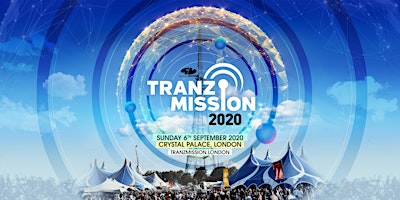 Thicket Road, London, SE19 2GA
Tranzmission Festival 2020
Sun 6th Sep 2020, 12:00 – Sun 6th Sep 2020, 22:00

Thicket Road London Greater London

SE19 2GA
Event Information
Tranzmission Festival returns to the iconic Crystal Palace for summer 2020 ☀️
Tranzmission 2020 at Crystal Palace on the 6th September is happening!😊☀️
In light of recent Government announcements, we are confident that there is a very good chance that the festival will take place. Our license is in place, the country is opening up cautiously and carefully from lockdown, and we believe we have all the necessary precautions and measures in place for a safe and enjoyable weekend.
Obviously we have all been through a very difficult period over the last few months and this might well be one of the only music events to be enjoyed this summer.
As per Government guidance, we have reduced our overall capacity to ensure appropriate social distancing, so tickets will be limited, especially as we have already sold more than 50% pre-lockdown.
You can view our full Covid statement here: https://tranzmission.london/covidpolicy/
OUR GUARANTEE
We understand that people may be anxious about buying tickets in case the event is cancelled or postponed. So we have decided that if for some reason the event cannot take place on the planned date, we will not be rolling ANY tickets over to a possible future event - instead everyone will be eligible for full refunds, including those who have already bought tickets prior to today.
We are guaranteeing 100% booking fees will be refunded .from Deftickets & Eventbrite. We think this is a unique guarantee so you can buy with confidence.
We are hoping that by September we will all be ready to let our hair down and enjoy an exciting and safe event together.
OUTDOOR STAGE - SLAMMIN VINYL
PROBLEM CENTRAL (Logan D & Majistrate, Eksman & Evil B)
CONGO NATTY
ARTFUL DODGER
MAJESTIC
GENERAL LEVY
GRIME ORIGINALS SHOWCASE (Dj Mak 10, Riko Dan, Manga, Saint Hilare, Killa P & Sharky Major)
VOLTAGE AND BASSMAN
SAM SUPPLIER
THE RATPACK
HARRIET JAXXON
ONE NATION x BREAKIN SCIENCE
TNA (Nu Elementz x Azza x Grima)
LOGAN D
BENNY L
MAMPI SWIFT
DJ PHANTASY
BROCKIE AND DET
T>I b2b LIMITED
BASSLAYERZ (Slipz x $pyda x Bomma)
EGO TRIPPIN
CAPITAL PUNISHMENT (Inter x Kombo x Mekar)
CRITICAL IMPACT
VITAL
RIPRAW
ZESTAR
MCs SKIBADEE, EVIL B, HARRY SHOTTA, IC3, AZZA x GRIMA, SHABBA D, DET, FUNSTA, FELON, KOMBO, MEKAR, HAZZA
HEARTLESS IN THE MANOR
HEARTLESS CREW + SPECIAL GUEST
DJ LUCK & MC NEAT
CARTIER
MASTERSTEPZ
DJ PIONEER
SCOTT GARCIA
MIDLANDS MAGIC
DANNY BLAZE
SMOKEY
MC DT
NIKKI S & NYKE
ULTRA
PRESHUS
HYPERACTIVE
VERSATILE – Funky Anthem
SHELLY NELSON – Something in your Eyes
LIFFORD – Pls Dnt Turn Me On + More
ANALOG – HOUSE
SURPRISE GUEST
DJ SKT
SAM SUPPLIER
JESS BAYS
DJ S
SAFFRON STONE
SAMMY PORTER
TOM SHORTERZ
JACK N DANNY
CHRIS JONES
RAINDANCE – VIP
KING BEE (Back by Dope Demand)
GROOVERIDER (Acid House Set)
SLIPMATT
ELLIS DEE
BILLY DANIEL BUNTER
TOP BUZZ
FAT CONTROLLER
STEVE PROCTOR
DJ CHALKIE WHITE
SKYZ
JOEY G
MCs MOOSE, 5ALIVE, STRICT & CHALKIE WHITE
VVIP AREA
SLIPMATT – Old Skool Reggae and Dub set
BILLY DANIEL BUNTER – Soul & Funk Set
SAM SUPPLIER
UNCLE DUGS GARAGE SET
IC3 HOUSE SET
JUMPIN JACK FROST
JOHN NEVER BAIT
Tranzmission 2020
Sunday 6th September
Crystal Palace, London
12pm - 10pm - 18+ Event